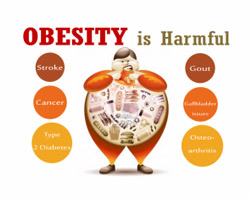 What is obesity?
Obesity is an epidemic in the United States. This condition puts people at a higher risk for serious diseases, such as type 2 diabetes, heart disease, and cancer.
According to the Centers for Disease Control and Prevention (CDC), it's estimated that in 2015–2016, 93.3 million (39.8 percent) American adults and 13.7 million (18.5 percent) American children and teens are clinically obese.
Obesity is defined as having a body mass index (BMI) of 30 or more. BMI is a calculation that takes a person's weight and height into account. However, BMI does have some limitations.
According to the CDC, "Factors such as age, sex, ethnicity, and muscle mass can influence the relationship between BMI and body fat. Also, BMI doesn't distinguish between excess fat, muscle, or bone mass, nor does it provide any indication of the distribution of fat among individuals."
Despite these limitations, BMI continues to be widely used as an indicator of excess weight.
Obesity is not just the weight on your body—it's the weight on your shoulders and the weight on your heart. If you are obese or overweight, you may suffer from heart disease, high blood pressure, increased risk for cancer, type 2 diabetes, stroke, infertility, arthritis, breathing difficulties and/or depression.
What causes obesity?
Eating more calories than you burn in daily activity and exercise (on a long-term basis) causes obesity. Over time, these extra calories add up and cause you to gain weight.Common specific causes of obesity include:
eating a poor diet of foods high in fats and calories
having a sedentary (inactive) lifestyle
not sleeping enough, which can lead to hormonal changes that make you feel hungrier and crave certain high-calorie foods
genetics, which can affect how your body processes food into energy and how fat is stored
growing older, which can lead to less muscle mass and a slower metabolic rate, making it easier to gain weight
pregnancy (weight gained during pregnancy can be difficult to lose and may eventually lead to obesity)
Certain medical conditions may also lead to weight gain. These include:
polycystic ovary syndrome (PCOS): a condition that causes an imbalance of female reproductive hormones
Prader-Willi syndrome: a rare condition that an individual is born with which causes excessive hunger
Cushing syndrome: a condition caused by having an excessive amount of the hormone cortisol in your system
hypothyroidism (underactive thyroid): a condition in which the thyroid gland doesn't produce enough of certain important hormones
osteoarthritis (and other conditions that cause pain that may lead to inactivity)